Billy Jack Miller, Elephant Butte Lake New Mexico Striper Fishing Guide.
Come to the land of enchantment...Elephant Butte, New Mexico... catch some fish, lose the stress & enjoy life. Fishing, hunting, boating, jet skiing, water skiing, camping, hiking, birdwatching, and other sightseeing excursions in and around Elephant Butte Lake.The largest body of water in New Mexico, miles of beautiful coastline & water, created from the damming of the Rio Grande River. No matter how much or how little you would like to do... Rio Grande Guide Service with professional fishing guides, Billy Jack & Monica Miller, will cover all the details and create the kind of vacation you have in mind.
Call or e-mail us with all of your vacation ideas.
For now we've...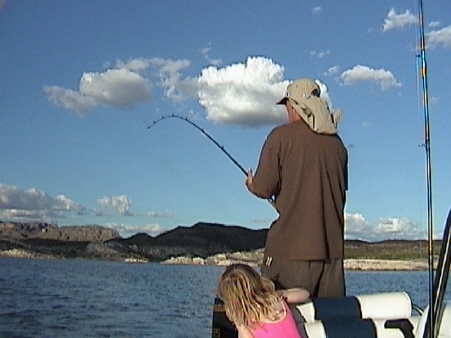 ...gone fishing!

---
---

30# Striped Bass beauty displayed by Guide,
Billy Jack Miller & Jr. Guide, Gidget Miller


Gorgeous Smally displayed by
Jr. Guide, Gidget Moon Miller
---


Yes, That's a Walleye!

Beat The Heat, Enjoy the Cool Morning
Be off the Lake before it gets Hot!
The Fish are Plentiful!
Day Fishing
Night Fishing
Kayak Fishing
It's all happening now!

How about You? Are you ready to go Fishing?!
Call to Get in on the Action!


**May Fishing Report**



Fishing is Fabulous!
Get A Trip In This Summer
Before the Kids Go Back to School!!
Catching White Bass,Walleye,
Smallmouth Bass,
Blue Catfish and
a few Largemouth Bass.

Plenty of Fish,
Water and Beach...

Call for Details!

Come Fish
New Mexico's
Largest Lake!

Click Here
to Make Your
Reservation Today with
Elephant Butte's
only Native
Fishing Guide!!

575-740-0150
575-740-6138
575-894-3454


---
| | | | | | |
| --- | --- | --- | --- | --- | --- |
| Click this Logo to Find us on Facebook! | | Follow us for Current Stories and Photos! | | | Click this Logo to Find us on Facebook! |
---
---
| | | |
| --- | --- | --- |
| | Do you know a wounded warrior soldier that could benefit from a peaceful day on the most beautiful lake in New Mexico? Then nominate a soldier to win a trip of a lifetime! USA Wounded Warriors Program have teamed up with 92.3 The Fox in El Paso to send soldiers fishing. Equipment, Bait, and lunch for the lucky soldier and their guest is all inclusive.Click Here to Nominate that special soldier in your life for an amazing trip of a lifetime! (Yes, you can nominate yourself!) | |
---
---


El Paso's 92.3 FM The Fox did a remote broadcast with Billy Jack and Gidget Miller of Rio Grande Guide Service live from their boat on Elephant Butte Lake.
El Paso radio personality, Jojo Garcia had been trying four years to catch a bass, with no luck, but all of that is changed now. He and his crew were completely blown away with the 82 bass they caught!



The Chavez family had an equally awesome experience catching the famous Elephant Butte White Bass!

What a great summer memory for the boys to start back to school with!
---
---
| | | |
| --- | --- | --- |
| This young Silver City couple had a ball on their first guided fishing trip. | | Scott Neilson and crew had a great day catching White Bass and Walleye. |
---
---
| | | |
| --- | --- | --- |
| Paige Parkes proudly displays her White Bass! | | Guide Gidget Moon Miller with her first Walleye of 2012! |
---
Come and see for yourself! Fish to your hearts content... enjoy the lake and the wildlife at its finest. Get in on some of the finest fishing New Mexico has to offer!
Call and make your reservation today!
---


Sprint Car Hall of Famer and former Lt. Governor of New Mexico, Casey Luna, and NM Ambassador to the Outdoors, Bob Gerding along with his camera crew, filmed a new fishing episode of Wild New Mexico with guide Billy Jack Miller.
Lot's of fish were caught and just a great time was had by all!




"The best, by far, Guide Service at Elephant Butte.
Billy Jack will treat you right!!"
Bob Gerding,
New Mexico Ambassador to the Outdoors.



Bob Gerding with guide Gidget Miller with a beautiful string of Walleye.
---
---
| | | |
| --- | --- | --- |
| Albuquerque Attorney Matt Sanchez shows off his idea of R and R!! | | Justin Zemke shows off his catch of the day! |
---
---
Elephant Butte
Striped Bass


Catch one today!




N.M.P.R.C. Chief of Staff Johnny Montoya, his beautiful wife N.M. Legislative Representative Rhonda King and daughter Ashley, went on a fishing guide with Billy Jack and Gidget Moon Miller... within the first 15 minutes of fishing Johnny nailed this 38.2 lb. Striper (39 & ½" long). Another monster caught on 10 lb. test line!
---
---
2013 Red Cross Hero
---
---
---
---
2009 Red Cross Hero
---
---
---
---
---


Let Guide, Billy Jack Miller,
Hook you up with a Beautiful
Striped Bass of Your Own!
---
---
You've Come A Long Way Baby!!
---
---


A Long Way to the State Record,
but #1 for Gidget!!
September 2002



Guide, Gidget Moon Miller with her first Striper of 2010!
---
---
Guide, Gidget Moon Miller
and her beautiful Striped Bass!

Guide Monica Miller proudly displays her
Striped Bass of the Day!
---
Guide, Gidget Miller has
a Live One on the line!!
Want to Hook
Your Kids UP??!!
Give Us A Call!!
---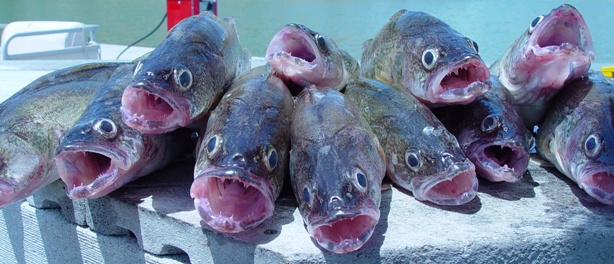 **Mucho Walleye!!**
---
---
...Always Time to Educate the Children!
---
---
We organized a Demonstration of Outdoor Vocational Opportunities for the Children
of Sierra Elementary School

MoonDoggo, the Fishing Dog is always
Happy to Shake Hands with Children!!
---
---
2009
Striped Bass


We limited out 77 straight days!


Striper Anyone??... Here You Go!!
Alex Wright and Family from Chapparel, New Mexico
---
---

Ask about our 3 and 4 sports packages!!
For example: Fishing, Water skiing & Tubing, all in 1 Day!!
---
| | | |
| --- | --- | --- |
| | ************** Join Us!!! ************** | |
---
Call & speak personally with your Guide, Billy Jack Miller!
575-740-0150
Take note, Southern NM has a New Area Code!
We are now 575 not 505
**This One Didn't Get Away!!**
---
*Thirty Pound Striper**Caught November 10, 2004*
*By 90 Year Old**Duke Klingeman*
---
Check out the beautiful striped bass below caught by brothers, Steve and Lew Manguso. Guide, Billy Jack Miller Jr. took the brothers out before dawn and had them at a location where they were able to catch this beauty within the first 15 minutes they were out. This 43 pound 4 ounce male was 43 inches in length and caught on a lightweight pole, Abu Garcia reel with 12# Trilene test and Rat-L-Trap lure. Steve manned the pole while Lew held on to his brother's belt so as not to lose him overboard! It was a thrilling once in a lifetime experience and a great time was had by all.


Brothers Steve and Lew Manguso and their Catch of the Day...


...a 43 pound 4 oz Striped Bass!!!

March 31st 2004



---
---
Call or E-Mail
to
Schedule Your Reservation Today!
---
---
Licensed and Bonded
Family Owned & Operated
Se Habla Espanol


Click the logo above to send us an E-Mail
Site Design: Monica Moon Miller
October 2002
Last Update: 05/31/19
Do you like my web site design?
Looking for a (new) Webmaster?...
Click my Moon Logo below and drop me a line.
I will create something new and fresh to represent your company!

---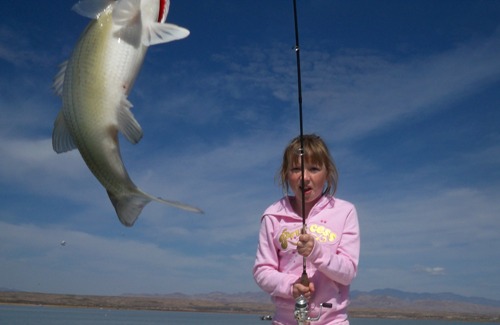 Heads Up!
---
The Local Forecast
---
---
Distance to Elephant Butte Lake from:
| | | |
| --- | --- | --- |
| Albuquerque 163 miles | | Tucson 306 miles |
| El Paso 124 miles | | Dallas 760 miles |
| Phoenix 420 miles | | Denver 594 miles |
---
---
---
---
---
---
---
---
---

Top of Page - Next to Fishing Page

---
---
| | | |
| --- | --- | --- |
| | Sunrise on Elephant Butte Lake New Mexico | |
---
---